We know you can't go out and grab a drink with the team right now, so here's something fun and engaging you can do together.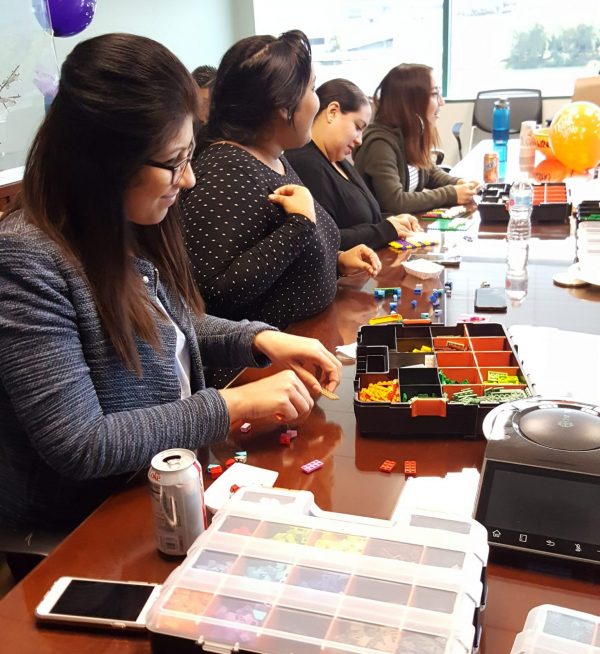 Here's a Chill and Build event. Penn Mutual invited us in for an employee appreciation event. They ordered food and each person got to choose from a few different sets. The team is talking and laughing and following the instructions we created for them. And they ended up building beautiful hearts, coasters and keychain holders like these.
Why do we use LEGO® products?
We use LEGO® bricks and elements because building with LEGO products is amazing! Being chill and creative with your friends and colleagues is a new and exciting way to hang out. There is something relaxing when you build with LEGO instructions. It does not require critical thinking, but you come away with a cool piece that is fun to display.
Contact us today to set up your next build, or learn about the sets we have available. Come back often, new sets are released every month.
Patty and Mo'Brickz offer a wonderful opportunity for everyone both young and old to be creative and have fun with Lego building. We have had Mo'Brickz visit our senior community and work with our residents on numerous occasions. We all really enjoy each and every time we get together and look forward to all of the possibilities we can imagine to create with Legos. Thanks Patty and Mo'Brickz!
David S.
Very interactive facilitators with children and adults. Lots of variety of legos to stimulate their imagination.
Harriet K.
Patty's activity is such a fun and creative event. I went with four friends to a Mo'Brickz event at a LEGO® and Libations event at A Grape in the Fog in Pacifica and we all had a blast. Great date night idea!
Michelle Dragoney
Chief Buzz Officer, Coastside Buzz
My son Hudson loves your class and he speaks very enthusiastically about it to us at home. Thank you from my husband and me for investing your valuable time in our son and for all you do for these little ones 🙂
Sarah Michaelis
Parent
Patty Sherin led an after-school Intro to LEGO® class and came well prepared with her LEGO® kits, free play LEGO® bricks and lesson plans. She creates a safe environment for students to explore and develop their creativity. She was compassionate, reliable and encouraging. It is evident that Patty has a love for helping students cultivate their imagination and the feedback from the students has been fantastic. This has been a very popular class and we will be offering it again.
Michele Husak
vAcademy after school enrichment program
My son had taken LEGO classes from Patty for several years now. The class is fantastic! Patty is fantastic! It's challenging enough, yet always fun! My son comes home from every class eager to tell me about what he built in class. Thank you Patty for being so great with the kids!
Sarah B.
Patty is one of the most energetic, enthusiastic people I have met. Just being around her will energize you and make you feel better. Add LEGOs, and you are certain to re-experience the joy and awe you knew as a child. Remember when every picture you drew was worthy of a spot on the refrigerator? Remember when you believed you could be or do anything you wanted? Well, that's only lost to us if we accept it. Take a step toward re-energizing your life, take the chance of playing. I guarantee you will be pleased!
Sharon M.